In an effort to build a spirit of cohesiveness and unity in our local BJJ community we have created a series of events bringing together instructors, competitors and students from different academies and associations to openly highlight and share their favorite concepts and techniques. These events are open to anyone interested in learning some fresh techniques from talented local instructors while meeting and training with like-minded new friends.
We are excited to announce Professor David Rothschild as the next guest instructor in our series of "Saturday Night Seminars"!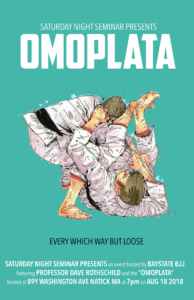 From The Instructor: The omoplata is one of the most effective and versatile attacks in submission grappling, and yet it is greatly underutilized. Especially for those grapplers looking to extend their longevity on the mats, the omoplata is your perfect partner to keep the weight off you while dominating the position.
Gi or no-gi, and with relatively little flexibility, the omoplata can become a staple of your game – you just need the right perspective. Make the omoplata your go-to attack: learn to seek it from nearly any position, keep it through any escape, and finish it against any defense.
David Rothschild has been practicing Brazilian Jiu Jitsu for twelve years, and has been privileged to be under the tutelage of professors such as Carlos Sapão and Roberto Maia, along with a host of other skilled black belt mentors.
David sees Jiu Jitsu not just as sport or self-defense; Jiu Jitsu is a way of life to carry us through to old age, if practiced correctly and with the proper mindset.  He hopes to impart some of this mindset during the seminar, along with a series of omoplata techniques.
Event Details:
Saturday Night, August 18th.

7pm-10pm- It's a BJJ night out.

Each event will include 90 minutes of instruction followed by a 90 minute open mat.

Cost: $40 – All proceeds will be donated to a charity of the instructors choice.

Participants will receive a high quality event poster featuring some awesome artwork.

Limited to 20 participants.

Open to practitioners of all skill levels.
Register by emailing baystatebjj@gmail.com or calling 339-222-6731
Please include the following:
First and last name, Academy/instructor, Cell number.